Following weeks of protests, Hong Kong leader Carrie Lam announced via a press conference on Tuesday that the controversial extradition bill is now "dead," admitting that the way it was handled was a "total failure."
The bill, which would have allowed people in Hong Kong to be sent to mainland China to face trials in courts controlled by the Communist Party, was heavily criticized by the public since it was announced last month. 
Lam has now reiterated that there is no plan to restart the legislation but did not say that she is officially withdrawing the bill.
In response, Hong Kong protest leaders promised to return to the streets, criticizing Lam for apparently holding back from completely withdrawing the proposed legislation.
Pro-democracy activist Joshua Wong wrote in a series of tweets that Lam's claims that the bill is dead are a "ridiculous lie," noting that she failed to invoke federal powers which would be necessary to actually kill the bill. 
[THREAD: Fed up with Carrie Lam's wordplay]

1. What #CarrieLam saying "the Bill is dead" is another ridiculous lie to the people of #HongKong and foreign media because the bill still exists in the "legislative programme" until July next year.

— Joshua Wong 黃之鋒 (@joshuawongcf) July 9, 2019
Wong added that the Hong Kong leader did not even commit to not reintroducing the bill at a later date, which the protesters have been demanding.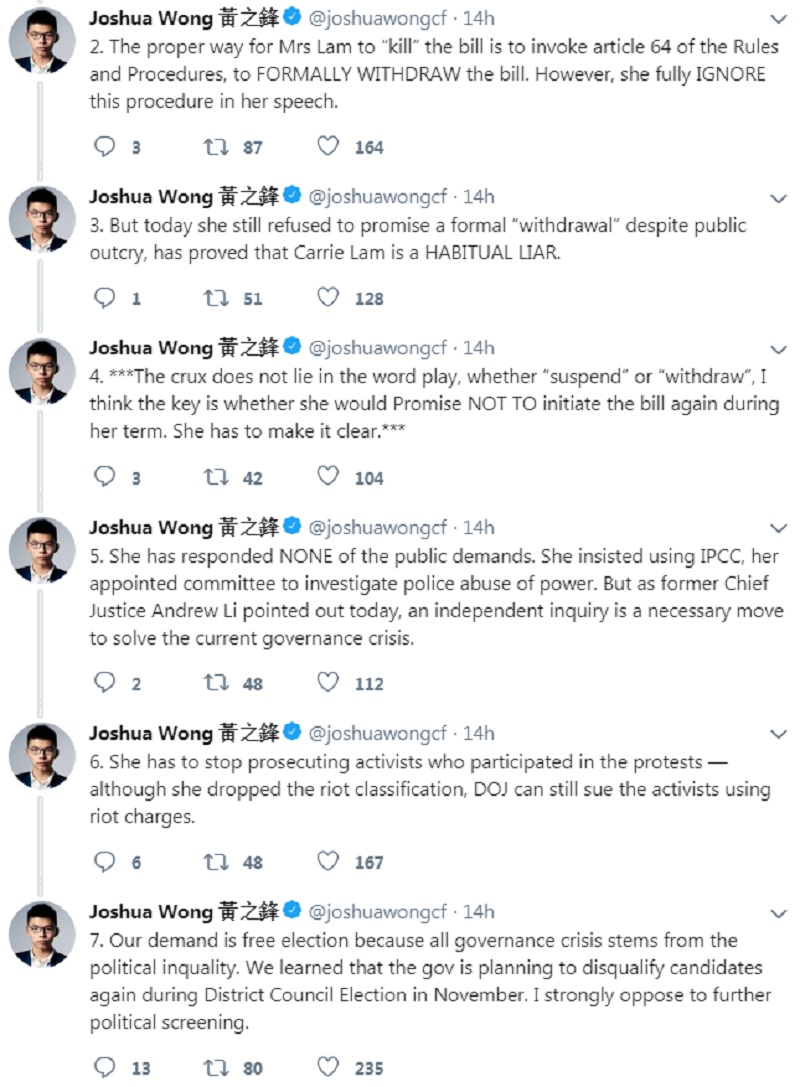 Meanwhile, Amnesty Hong Kong director Man-kei Tam, has called on Lam to clarify her words, demanding an "unequivocal commitment" that the bill will be "withdrawn for good."
The Civil Human Rights Front (CHRF), which organized many of the mass marches, pointed out that the bill's withdrawal should be a "formal and legal proceeding."
"We cannot find the word 'dead' in any laws in Hong Kong, or any legal proceedings at the Legislative Council," CHRF's vice-convenor Bonnie Leung was quoted by the HKFP as saying.
Lam's initial response to the huge protests last month was suspending the bill, which failed to silence her critics. Aside from demonstrating against the bill, the activists have also been calling for the Hong Kong leader's resignation.
Meanwhile, the different groups have now committed to more protests in the days to come.
Featured image via YouTube/CNA