Dr. Michael Dao, based in Garden Grove, California, is a 55-year-old internist who introduced fingerprick testing for COVID-19, a method that has been used in Asia as it shows results in 10 minutes.
The 180 COVID-19 IgG/IgM Rapid Gold tests come from one of the largest Biotech Firms in South Korea, a country that has recently seen a drop in COVID-19 cases.
In several recent Facebook posts by the Dao Medical Group, they have been keeping their community informed on the tests and the process of acquiring and receiving the test kits. Last Thursday, Dr. Dao expected the delivery of 10,000 more kits that provide almost instant results, and more are on the way, he told The OCR. On March 22, the clinic released a post offering its kits for free through an honor-based system, which has received high demand, alongside criticism.
In an exclusive interview with NextShark, Dr. Dao talked about his motivations for bringing the test kits to the US, how the test works, the future of getting tested in the country, and what this means for the NextShark community, a majority of whom are Asian and are between the ages of 18 and 34.
Please explain your role at Dao Medical Group.
I am the owner and an internist (doctor practicing internal medicine) at Dao Medical Group in Garden Grove, CA.
What was being done in Asia that should have been done earlier or even now in the US from your professional experience?
Countries in Asia such as South Korea, China, and Singapore have been using these COVID-19 IgG/IgM rapid result serology tests to detect coronavirus and prevent the disease from spreading to others. The issue in the US is that many people are unknowingly carrying the virus because they are asymptomatic, which is why the virus is spreading so quickly. This is where these test kits come into play. It will help identify those who have been infected, and they can self-isolate to prevent spreading the disease to others that they may come into contact with.
Why did you decide to bring the test here and why did you choose PCL Inc as the provider? Why PCL and why fingerpricks?
For several weeks before I had these tests, we had many patients asking if they could get tested for COVID-19. The main issue was the lack of test kits. Emergency situations call for emergency measures. I came across PCL Inc., which is one of the largest biotech firms in South Korea. Their IgG/IgM rapid result serology test is a simple test that involves a few drops of blood through a finger prick test, and results are ready in only 10 minutes.
If this test is so easy to administer, why can't people take it at home?
These tests are simple to administer, but it must be administered by a trained health care worker such as any providers, nurses, medical assistants, etc. It's not meant to be a "take-home" kit.
What was the process like for getting the tests to the US and using another outlet besides the FDA to get approval? In your video interview with Pho Bolsa TV, you had shown paperwork of verification from somewhere else. 
Since we are getting these test kits directly from PCL Inc. in South Korea, it does require an importing license to get them into the US. The paperwork I showed in the Pho Bolsa TV interview was to show that we had submitted the test kit to the FDA for Emergency Use Authorization (EUA). It is approved for use in South Korea and even Europe. We did contact the US FDA afterward and confirmed that since it is a serology test, it does not require FDA approval. However, we do need to include the following disclaimer from the FDA:
This test has not been reviewed by the FDA.
Negative results do not rule out SARS-CoV-2 infection, particularly in those who have been in contact with the virus. Follow-up testing with a molecular diagnostic should be considered to rule out infection in these individuals.
Results from antibody testing should not be used as the sole basis to diagnose or exclude SARS-CoV-2 infection or to inform infection status.
Positive results may be due to past or present infection with non-SARS-CoV-2 coronavirus strains, such as coronavirus HKU1, NL63, OC43, or 229E.
Can you walk through for our readers how the test works? In addition, with Pho Bolsa TV, you had said that either a positive or negative test is a 100% truth and the other is not, can you please explain? 
COVID-19 IgG/IgM Rapid Test is a finger prick blood test with results in 10 minutes. This serology test is different than the current polymerase chain reaction (PCR) tests in that initial studies indicate that serology tests can identify if someone has been exposed to the COVID-19 virus, and can further detect if a person was recently infected with the disease even if they have never shown or are no longer showing symptoms. This can help health agencies focus on prior contacts of persons previously infected. Existing PCR tests generally only show positive if a person is currently infected and the virus is still present. Furthermore, PCR tests require patient samples to be collected properly and sent to a lab, thus increasing the cost of the test and reducing the speed to obtain a result.
COVID 19 IgM/IgG rapid gold is a serology test. Serology tests look for the presence of antibodies, which are specific proteins made in response to infections. The antibodies detected by serology tests indicate that a person has had an immune response to the novel Corona Virus (SARS CoV-2), whether symptoms developed from infection or the infection was asymptomatic. Antibody test results are important in detecting infections with few or no symptoms. If a patient tests positive, that means that he/she has been 100% exposed to the virus. If a patient has been recently exposed to the virus and takes the test too early, the body may not have produced the antibodies yet which will result in a negative test. If patient still does not have any symptoms, he/she can repeat the test again in 7-10 days. If there are symptoms, the patient can do a PCR test.
What was your reaction when you posted on Facebook about providing the tests and receiving negative reactions?
We did receive a lot of negative comments from our Facebook post at first. However, I am not discouraged because I received many phone calls to encourage me to continue to do this from other doctors, health care providers, friends, and patients.
What is the process for getting a test? What safety protocols are in place?
The test is performed at our clinic by appointment only, and it is a drive-thru test. Patients must call in to schedule an appointment. We do not accept walk-ins to reduce the risk by eliminating crowds of people. Prior to taking the test, we screen and ask patients if they had any possible exposure to COVID-19, if they are experiencing any related symptoms, and if so, which symptoms (fever, cough and/or shortness of breath)? We have a designated area behind our facility. Patients will park in the designated area, and stay in their cars. Our trained medical assistants wear personal protective equipment (PPE) and will administer the test while the patient is inside the car.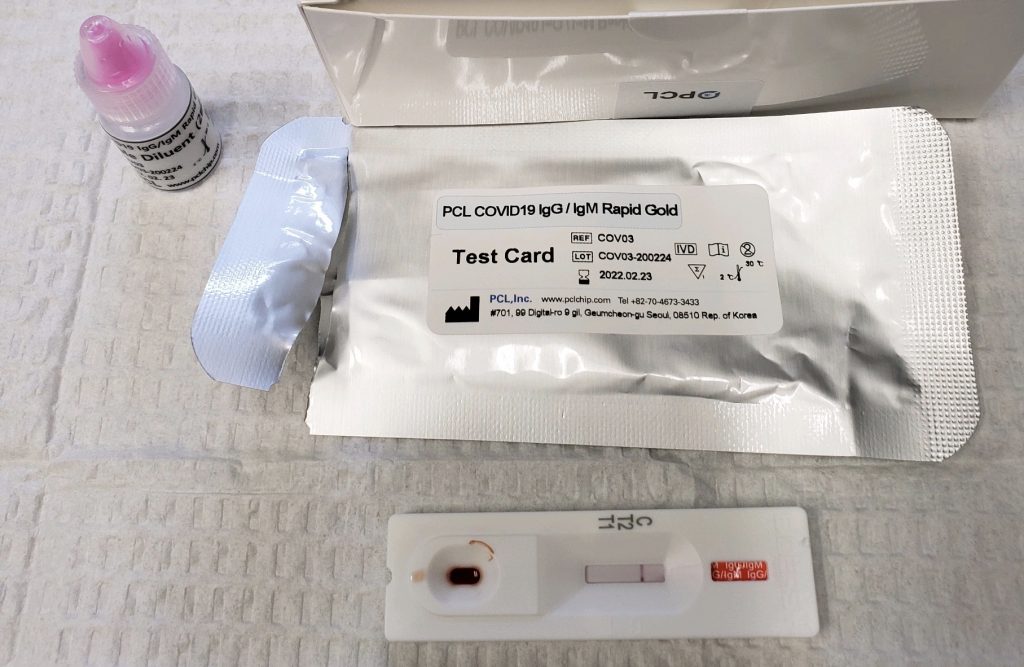 Have you used all the tests you received Thursday, what is the demand like and will some people still be waiting for the tests?
We used the first 200 tests already, and are expecting another delivery of 12,000 test kits. We've had many patients, first responders (police officers, firefighters, postal workers) and other healthcare providers who are fighting this virus at the front lines reach out to us for these tests.
You said in an interview with OC Register that you felt like you were giving back to the community, why is that?
As you know, there is a shortage of test kits in the US. There just aren't enough resources, and some patients who should be tested are being turned away because of this shortage. I want to give back to the community by making these tests available and accessible – especially for the "essential workers" who cannot stay at home and are more vulnerable to COVID-19.
Do you encourage everyone to take the test or just people who truly need it? Do you foresee being overwhelmed?
This test is a good tool for people who have no symptoms or mild symptoms, and are not aware that they are infected. We want to identify those who are infected and have them self-isolate to eliminate them spreading the disease to other people unknowingly. However, if you're already staying at home, then please stay at home! This test is best for the "essential workers" who are out in the field, including police officers, health care workers, and first-responders.
You are the first, but do you anticipate other groups/clinics following in your steps?
Yes, we have already received phone calls and emails from other groups/clinics who are interested in getting these tests to their providers, staff, and patients.
What message do you have for our NextShark readers (a majority of whom are Asian and are 18 to 34 years of age)? 
Always strive to do what's best for yourself, your family and friends, and your community. If you have a positive attitude and put in your best effort, you will be able to overcome any challenges to achieve greatness.
Images via Screenshot (left) Provided by Dao Medical Group (right)