A senior writer for The Hollywood Reporter is facing a new wave of criticism after defending a feature article he wrote about K-pop powerhouse BTS, which some had deemed xenophobic.
The story, which first appeared on the Oct. 1 issue of The Hollywood Reporter magazine, allegedly reeked of Western superiority, invoking a sense of "otherness" that painted the septet as something so alien despite their global popularity.
Seth Abramovitch, who flew to South Korea to interview the group, set the tone of the profile piece with the opening sentence: "The restaurant is called Dotgogi, which means either Sesame Meat or Aged Pork, depending on which online translator I consult."
He then compared BTS to The Beatles for having three No. 1 albums on the Billboard 200 chart in less than a year, describing it as "a feat that's all the more astounding considering their songs are mostly in Korean."
Abramovitch went on to share that he had gifted the members with pins he bought from LAX, including "a Hollywood sign, a Beverly Hills sign, and some other souvenirs."
"The boys seem to appreciate the gesture, or at least are good at faking it," he noted.
View this post on Instagram
The suggestion of BTS "faking it" continued in the writer's assumption toward the group's stance on political issues. To some, this language is reminiscent of racist sentiments depicting Asians as robots.
"Indeed, whenever the conversation turns to anything controversial — or just slightly provocative — their answers have all the spontaneity of a Disney animatronic figure," Abramovitch wrote.
"For instance, when asked if they have any reservations about resuming their tour in America during such a politically fraught period, a switch seems to flip in RM's brain."
Hi #ARMY! Check this space Wednesday for a big surprise!! #BTSxTHR @BTS_twt @bts_bighit https://t.co/kILmHj0JW2

— Seth (@SethAbramovitch) October 1, 2019
A wave of ARMYs slammed Abramovitch's article soon after its publication, with one pleading, "I understand you're The 'Hollywood' Reporter, but if your publication enjoys privileging its Western identity so much, please refrain from doing articles about Asian entertainment."
Others echoed the same thought:
"actually," says suga, "BTS stands for BiTch Shuthefuckup," he said, before proceeding to whack me over the head with an old, korean chair

— (@elliotsang) October 2, 2019
Wtf did I just read? Literally the only good things are the photos. Please don't give the THR article any clicks. It's a mess. Why have someone who admits to not knowing them, interview them. Twisting words, bringing up unnecessary topics, describing bang pd's body? Not cool

— José/JK Mixtape (@TheJose8A) October 2, 2019
@SethAbramovitch You know you messed up when other journalists are calling out your poor writing and research pic.twitter.com/Sc78ahSY4Q

— Rani 0.01% (@OnlyOT7sAllowed) October 2, 2019
The article was a compete trash full of questionable wording and subtle digs at the boys not to mention bringing in issues that have nothing to do with them. I am not gonna buy the magazine or support THR again.

— Revy (@N_Revy) October 2, 2019
U were going to interview them but research on how many members there are on a plane ? Sir, u are a Rita Skeeter.

— emmaBTS (@wet_bts) October 2, 2019
I gave the article many chances. But nope, every paragraph had something problematic in it. A slight jab or a terrible use of a word. He's a writer, surely he knows economy of words.

— Jdp23BTS (@jdp_0623) October 2, 2019
I deleted all my tweets, took out my likes & retweets. No way am I ordering it no matter how great they look in a magazine. I'd rather buy 4 more volumes of the BTS WORLD OST than spend my money on that condescending article that used their language barrier for their narrative.

— 岸 ◡̈ ❄️ (@taeRivetted) October 2, 2019
It's trash…. You twisted their words, asked questions which wasn't needed to ask, said things which wasn't needed and was insensitive…. We need an apology for this. How can you take the advantage of language barrier and mistranslate or twist everything. DISGUSTING

— Vanny (@BangtanRemedy) October 2, 2019
You had me hyped for this crap?!!! Thank goodness I didn't click on the actual article. You won't get views from me. I'm so disgusted with how you present your work. You took advantage of wide eyed, innocent, music loving, young men. They trusted you. We trusted you.

— Elena Sosa (@ELENASOSA2008) October 2, 2019
You should have kept it in the Trash where it belongs

— Court #MIR (@TrayJ94) October 2, 2019
A month later, Abramovitch continues to defend the article, denying its alleged xenophobia.
"BTS is a virtual MYSTERY to 99.99% of the population," he wrote on Twitter on Nov. 2. "Introducing them to a general population is not XENOPHOBIA. Jesus CHRIST."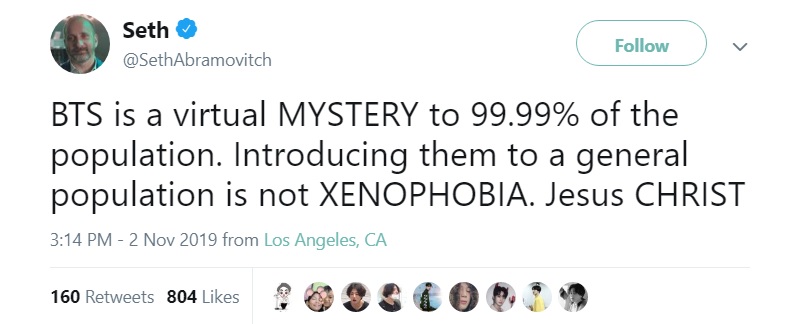 Abramovitch's tweet immediately caught fire, with ARMYs debunking his rhetorical statistic.
"I know this is hyperbolic, but even as hyperbole it's just…wrong. Twenty-two million people follow BTS on Twitter. There are about 7.5 billion people on Earth and 22 million out of 7.5 billion is about 0.3%, so, he couldn't even do the math?" one pointed out.
I know this is hyperbolic, but even as hyperbole it's just…. wrong. 22 million people follow BTS on twitter. There are about 7.5 billion people on earth & 22 million out of 7.5 billion is about 0.3%, so. he couldn't even do the math?

— na'ama. (@iknownaama) November 2, 2019
I don't think the 22M even encompasses those who just know them (doesn't have to be a fan, could be antis even, but at least they KNOW BTS)

— hana oil ❤️ Soobean's Mom (@YeetzuruFanyu) November 3, 2019
The Earth population is 7,53B people.
99,99% of that number is 7 529 247 000.
7 530 000 000 – 7 529 247 000 = 753 000
According to your data, only 753 000 people know about BTS.
Their following is 22,5M on Twitter only. Their latest world tour sold 1 835 116 tickets.
Do better.

— lea (@joonietrivias) November 2, 2019
and that 22.5m isnt even including the people that know them but dont follow them on twitter!

— not kay (@joonIegs) November 3, 2019
They have been on Colbert, SNL, and appeared at the United Nations. They have completed a World tour. 99.9% my ass.

— Jason Garfield Bardy, AKA 제이슨 샘 (@J_GarfieldBardy) November 3, 2019
Next time pls just send asian american or korean american reporter only, 100% more reliable and well prepared

— jimin 's lil flower (check pinned tweets pls) ✨❤️ (@Ri_Jeons) November 4, 2019
And to point this out yet again, all the journalists calling this out are POC! I'm loving it. This is why representation matters. I'm glad my son has @BTS_twt rather than the opinion of yet another crusty white man.

— Sylvia.‍♀️‍♀️ (@pixie__park) November 3, 2019
And to try and cover up the ignorance, he goes in trying to push this negative stereotype he cooked up onto BTS.

— Rachael Shen (@ShenRachael) November 3, 2019
You're right: Time, Vogue, Billboard, and Entertainment Weekly are all very small, niche publications pic.twitter.com/zv81gkuQL8

— Patty .01% (@btbtbtsssssss_) November 2, 2019
Grammys, billboard, AMA, PCA, Saturday night live, entertainment weekly, time magazine, jimmy Fallon, the late late show, BuzzFeed, vogue, teen vogue, seventeen, refinery29… ALL have featured bts. try again.

— kit (@yoongivcr) November 2, 2019
CNN writer Jeff Yang also responded to Abramovitch's tweet, saying that the article was not xenophobic, but treating BTS as an "exotic novelty act" is "unprofessional at best and racist-adjacent at least."
"This was just embarrassing. Any fan could've filled you in on a wealth of detail on the group, their history and the cultural context of their success—if you'd bothered to talk to one. And any Korean American could've told you what appropriate gifts might be for a first meeting," Yang added.
No, but going into a major cover article completely unprepared because you're treating one of the biggest bands in the world as an exotic novelty act* is unprofessional at best and racist-adjacent at least

*because they're Asian and you've never heard of them https://t.co/cR3eVOL3ab

— Jeff Yang (@originalspin) November 3, 2019
Featured Images via Facebook / @bangtan.official (Left), Instagram / @seth_abramovitch (Right)