Since its theatrical release on Friday, Quentin Tarantino's latest movie "Once Upon A Time In Hollywood" has so far received both box office success and critical acclaim.
The film received praise for its setting, casting choices and the solid performances of its main cast, which includes Brad Pitt, Leonardo di Caprio and Margot Robbie.
In many film reviews, critics also took notice of Mike Moh's performance as the legendary martial arts star Bruce Lee.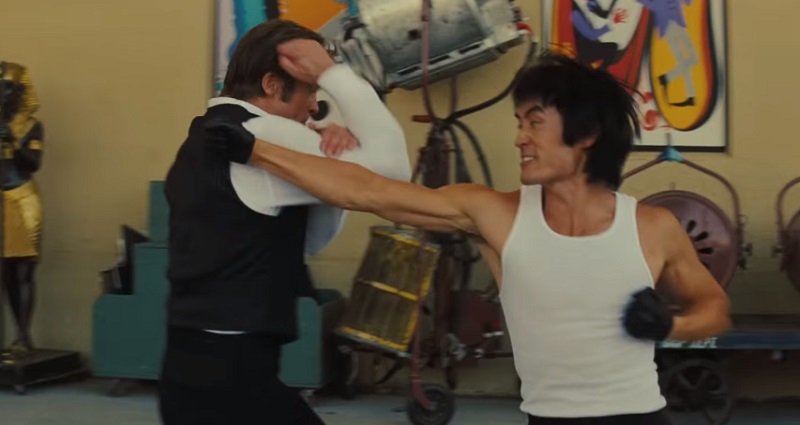 But while many were generally impressed by how Moh handled the character, some have expressed criticism on how Tarantino's script portrayed a beloved Asian American icon.
To make Pitt's character, Cliff Booth, appear badass in the film, the filmmaker devised a best-of-three-rounds fight scene between the fictional Booth and a cartoony version of Lee. 
In the scene, Lee was cocky and ended up challenging Booth to a fight that he eventually lost. The fight scene showed Lee knocking Booth down in the first "round" but Booth was able to beat Lee in the second round by slamming him into a car door. Tarantino has hinted in interviews that by showing Booth get the better of Lee, the scene establishes that the character is not to be stifled with.
One of the more vocal critics of this fictionalized version of Lee, is the martial arts legend's daughter, Shannon Lee. 
Lee, who was not consulted by Tarantino for the film, told The Wrap that the portrayal of her father in the film makes him come across as an "arrogant a******."
"I can understand all the reasoning behind what is portrayed in the movie. I understand that the two [lead] characters are antiheroes, and this is sort of like a rage fantasy of what would happen … and they're portraying a period that clearly had a lot of racism and exclusion," she was quoted as saying. "I understand they want to make the Brad Pitt character this super-badass who could beat up Bruce Lee. But they didn't need to treat him in the way that white Hollywood did when he was alive."
Lee also noted that her father was often challenged to fights but always tried to avoid them.
"He [Lee] comes across as an arrogant a****** who was full of hot air," she said. "And not someone who had to fight triple as hard as any of those people did to accomplish what was naturally given to so many others. Here, he's the one with all the puffery and he's the one challenging Brad Pitt. Which is not how he was."
On Twitter, many pointed out how "disappointing" and "upsetting" to watch Bruce Lee's legacy tarnished by Tarantino's caricature portrayal of him.
That scene was garbage & erased @brucelee's struggles & legacy as an Asian man in the west / Hollywood, turned him into a joke. Now every1 thinks they could fight Bruce, including all these newbie MMA fans who have no idea they would've never existed without him #BruceLee

— Dynasty MMA (@DynastyDFBB) July 30, 2019
Given how Asian men are often emasculated in the media I felt the optics were pretty bad. And to treat an icon like this? No thank you. #OnceUponATimeinHollywood

— Sherice (@ShericesPieces) July 26, 2019
Very curious to hear and read reaction from the Asian community about #BruceLee's portrayal in #OnceUponATimeInHollywood. It had me feeling some type of way.

— Sherice (@ShericesPieces) July 24, 2019
#BruceLee Given current ubiquitous racial hatred displayed in US, #OnceUponATimeInHollywood thought it was right time to remake Bruce into how racists viewed Asian men in US?? #BradPitt don't you have Asian sons?

— Sue Pak (@suepak) July 30, 2019
not great (i mean, the impersonation is spot on)

he's essentially used as a throwaway to make cliff look tough, to show that a tough ol' 'Merican can knock the crap out of that fancy ass asian "gung fu"

— Kurt S. Durden (@iamjackscolon) July 29, 2019
i mean, I'm almost glad something is upsetting me to the point that politics seems meaningless

but i'd like to see cliff from #OnceUponATimeInHollywood do one of these…#brucelee definitely had the swagger depicted in the film, but at least an equal amount of athletic prowess pic.twitter.com/svqikd0vCJ

— Kurt S. Durden (@iamjackscolon) July 29, 2019
The #BruceLee scene in #OnceUponATimeInHollywood is complete bs. Bruce Lee would have kicked his ass pic.twitter.com/91HICBrWhB

— Keymo Suenos (@KeymoSuenos) July 27, 2019
Just watched @OnceInHollywood very disappointed with what they did with @brucelee @mikemoh . They turned his whole career into a joke for cheap laughs. #BruceLee fans deserved better. #AsianTwitter #MMA #film pic.twitter.com/1y3kNsckaV

— DTM (@DTMUniversal) July 26, 2019
I'm disappointed, but not surprised by QT's insensitive portrayal of #BruceLee. I was a fan of his earlier work, but Hateful 8 was the first time I felt the decline. I remember feeling really grossed out by his portrayal of LatinX in that movie. Demián Bichir deserved better! pic.twitter.com/sBi9CfWZm7

— Nesterio (@nesbot106) July 29, 2019
Bruce fought against white liberal racism. It's funny how nothing has changed in hollywood after 50 years

— New Wave Comedy (@NewWaveComedy) July 30, 2019
Featured Image via YouTube / Sony Pictures Entertainment