Black Salt Co. has been heavily criticized for silencing voices on social media after the Australia-based luxury homeware company was called out for culturally appropriating Laotian and Thai Culture.
Instagram user Jade Martinez (@saibadee_jade), made a post criticizing two specific products that the online store sells: The Malibu Coffee Table and The Gift Treasure Box.
View this post on Instagram
Black Salt Co. was founded by mother-daughter duo Amber and Jenny Foster, who are not of Southeast Asian descent, according to the company's about page. The products sold are described as "coastal luxe homewares and accessories" sourced locally and globally.
The Malibu Coffee Table resembles a Laotian Pa Khao and a Thai Khan Toke used traditionally in homes and temples to serve food on, her post read. The treasure box bears a likeness to the Laotian sticky rice serving basket Thip Khao, according to Martinez.
The coffee table sells for $254 and is described as a coffee table with a round design, natural rattan with three sizes available. The home decor is described as, "Traditional South East Asian design, commonly used in Laos & Thailand," which was allegedly added after comments about the origins of the table came into question. The box is on sale for $8 and is described as a woven material, ideal for trinkets, and is available in two colors.
The company allegedly posted a blanket apology on its Instagram highlights for offending people and emphasizing that cultural appropriation was not their intention.
"We only wanted to show respect and support for all cultures and communities and certainly do not aim to offend anyone," the last sentence of the post read.
The company has apparently blocked comments on posts, including a photo featuring the coffee table as well as Martinez.
View this post on Instagram
Community member Sam, who wished to remain anonymous, told NextShark that the company reduced a symbol of togetherness to a coffee table.
"This table is a symbol of our people, our heritage and history," Sam said. "We use them to eat our daily meals, to offer food to monks, and to use in other religious ceremonies."
Martinez has also shared other comments via Twitter.
Comments on Black Salt Co.'s second most recent post because they turned off comments on the recent (checked with my other account because they blocked my main 💀) 10/ pic.twitter.com/5QCFRKKRP4

— jade! 🇱🇦🇲🇽 (@sabaidee_jade) July 23, 2020
Social media users took to Facebook to leave scathing reviews about Black Salt Co. and post their own narrative on why the company is part of the problem.
"Stealing culture and selling items that are triple the price at the local Asia market," one reviewer wrote.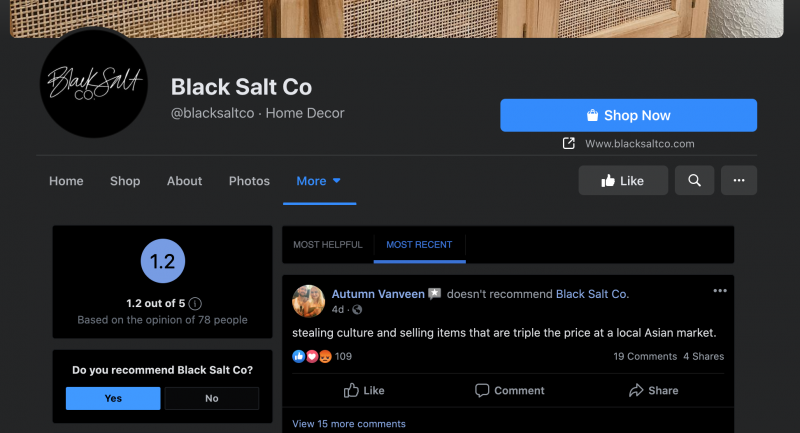 The review page for the company has since been removed as of this writing.
Another Facebook user made a separate post calling out Black Salt Co. for blocking comments entirely from pages and continuing to sell The Malibu Coffee Table and The Gift Treasure Box.
"How disgusting for a company to use shady tactics in silencing the voices of those of us who call them out on their appropriation," the user wrote. "The individuals behind this company need to EDUCATE THEMSELVES on these issues and properly address this situation."
NextShark has reached out to Black Salt Co. for comments.
Feature Image (right) via Black Salt Co