Kelly Marie Tran has largely been considered the breakout star of the new "Star Wars" movie, with fans praising her stellar performance in "The Last Jedi".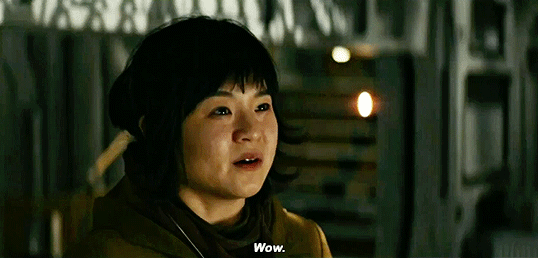 …well, maybe not all fans; as it would turn out, there were those who didn't like the casting decision, and a select few decided to storm Rose Tico's Wookieepedia page to voice their disdain with racist comments.
Jeez. Racists have been attacking @WookOfficial. The history of changes in the last day to Rose Tico's page is shocking and sad. #StarWars fans should be better than this. pic.twitter.com/LQM3WXhOnO

— Bryan Young (@swankmotron) December 19, 2017
"Heil Hitler and I don't know whey I was casted in a good movie like Star Wars," the racist, disgruntled fans listed as a quote from Rose to Finn. They also changed information about her, claiming her name was actually "Ching Chong Wing Tong" and came from the homeworld of "Ching Chong China".
"Ching Chong Wing Tong is a dumbass fucking character Disney made as is a stupid, autistic, and retarded love interest for Finn," her altered bio read. "She better die in the coma because she is a dumbass bitch."
"FANDOM has a zero tolerance policy for vandalism, inclusive of racism and harassment," the company told Newsweek. "The wiki admins take this very seriously and took the steps to resolve this situation as quickly as possible, including escalation to our team, and subsequent lockdown. This lockdown will remain for the foreseeable future and we will be closely monitoring activity on this wiki."
Bryan Young, who was notified of the changes by a friend on Tuesday, said that the user who made the edits to Rose's page has since been tracked down and blocked from Wookieepedia and other FANDOM sites. The page was subsequently restored to its rightful state.
Featured Image via Twitter / Bryan Young