Editor's Note: This article has been updated to identify Aaron Toon, the man in the tweed jacket.
Riders in a train carriage in Birmingham, England chivalrously defended a Chinese woman from a racist and xenophobic woman who claimed she had COVID-19 for wearing a face mask.
The incident occurred between Grand Central—Redditch station, roughly 8 p.m., and was posted to Facebook by David Superbreed Joyce. In the caption he wrote, "So this RACIST south american woman on the train started calling another chinese woman corona and all sorts of nasty sh!t."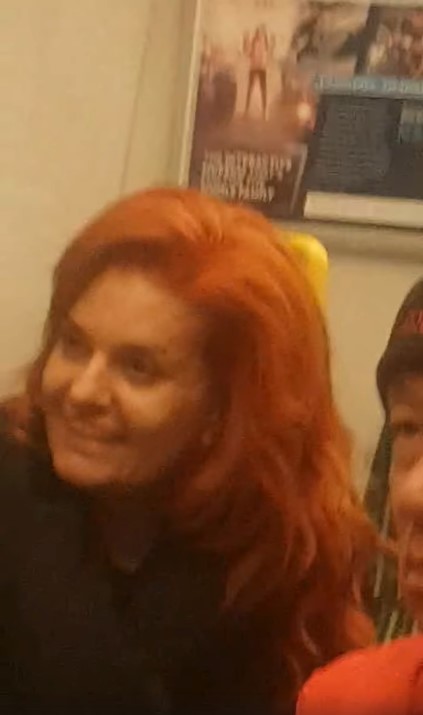 The unnamed South American woman boarded the carriage and said, "Why are you wearing your mask you Chinese and your corona."
As Resonate and Joyce reported, he began recording after the Chinese woman explained that she was wearing the mask as a precaution for her health.
"I had cancer last year and had chemotherapy, I have been wearing the mask since before [the] corona outbreak to protect my body on the daily commute," she said.
In the first of the series of videos, Joyce repeated, "If she wants to wear the mask then she can wear the mask, it doesn't bother nobody else." He slammed the slurs, calling it offensive and went on to look incredulously at the camera from what he said being blatantly ignored.
In response, the rest of the people onboard come through to the Chinese woman's defense.
A man in a tweed jacket, identified as Aaron Toon, also from Birmingham, and other passengers begin to call her rude, stating it was ignorant to assume she had coronavirus when she didn't know her, which the South American woman repeatedly denied yet continued to say "corona."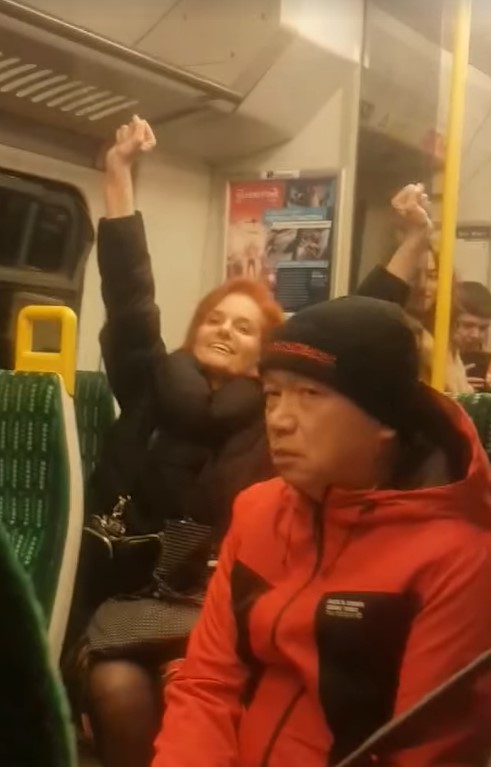 "Every day I come commute to this train, this is the first time someone says something [like this] to me," the Chinese woman said.
"Why are you wearing a mask if it doesn't matter?" she went on.
"It's none of your business, leave her alone," Joyce said to the chorus of people agreeing in the background.
The South American woman continued to pester the Chinese woman, clapping and loudly saying, "You're in England" and "This is England. England."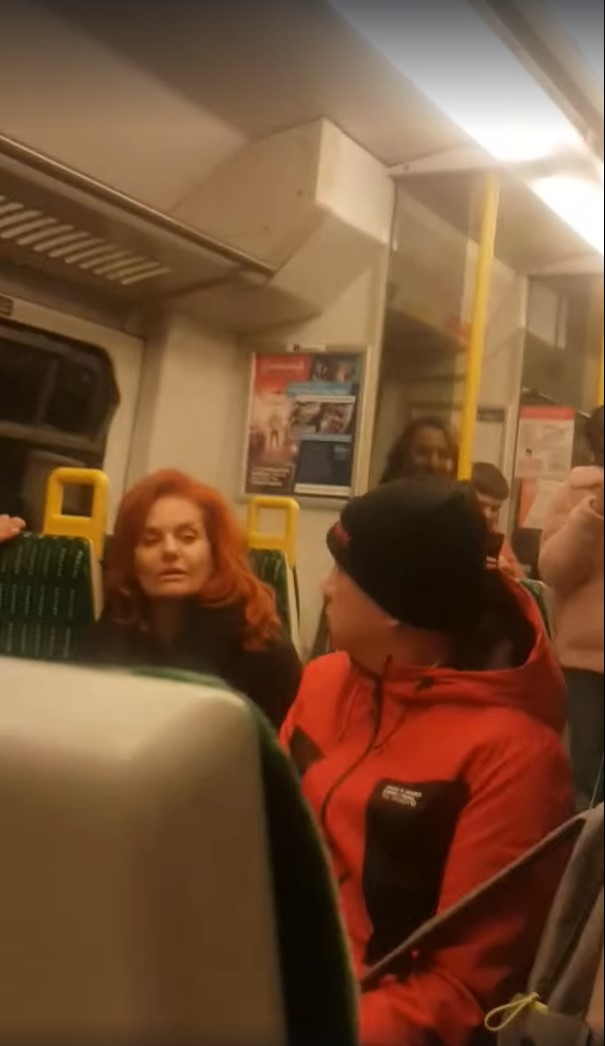 She pointed out the coronavirus' origin, to which another passenger exclaimed, "Not every Chinese person in the world has Coronavirus!"
"She's explaining that she's unwell," a passenger to the left delivered in an impassioned tone. "She's protecting herself, and everybody else. She's come here to earn a living."
When the Chinese woman pulled her phone to film the situation, the racist woman responded, "You're protecting yourself with a camera? That's so Chinese! Mini-television, they love television."
"It's nothing to do with race!" Toon remarked. "It's to do with you being rude and disrespectful and she wants to document it—so if anything comes back she can protect herself."
"I don't live here," the red-headed woman said. "I don't care for England or China."

Fed up, the woman later tried to seize the phone from the Chinese woman, but Joyce and Toon jump up from their seats to block her from doing so. She then tried with Joyce and failed.
Instead, she repeatedly yelled "England," before departing the train.

In an update to NextShark, Joyce said Toon's father reached out to him, saying, "He is very humble and did not do it for praise." Joyce still wanted to include him in this post out of respect.
Images and Videos Courtesy of David Superbreed Joyce