A bakery manager in New York City's Chinatown has expressed disappointment after Mayor Bill de Blasio turned his back on him while he was asking for help.
The moment, which was caught on video, took place during de Blasio's visit in the neighborhood to push the message that "New York City is open for business (and delicious)."
Summer responsibly! @NYCMayor visited Chinatown today with a message: New York City is open for business (and delicious). pic.twitter.com/OgAHyzqme2

— NYC Mayor's Office (@NYCMayorsOffice) August 11, 2020
Patrick Mock, who manages 46 Mott Bakery, was talking about the struggles of local businesses, which started ahead of the March lockdown due to coronavirus-related racism.
De Blasio reportedly listened for a while but ultimately ignored Mock's plea for help.
"That's very unfortunate," the mayor said before turning his back on his constituent.
"I finally got his attention. I was speaking the truth. I started getting emotional, but I was just speaking about what we needed in the neighborhood. And he was just like, 'Alright I got to move on to the next part, this is off schedule. I got to move on,'" Mock told Gothamist.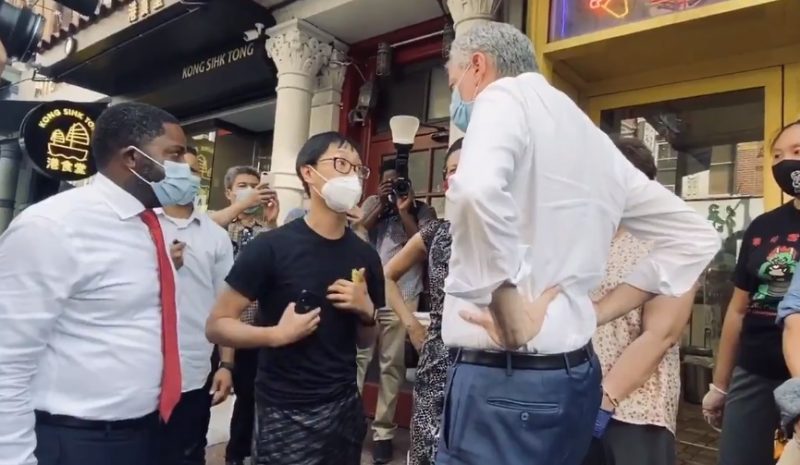 De Blasio's gesture came after months of dissatisfaction over his leadership. Had he kept listening, he would have heard of Mock's idea to turn Chinatown into a night market on weekends.
"Me explaining it to him and him walking away, it just shows, like — maybe he knows there's a problem, but there's nothing he wants to do or say to give us a confidence boost," added Mock. "Which sucks."
A bakery manager tells de Blasio that his business is suffering from reduced foot traffic in Chinatown: "We're all hurting." pic.twitter.com/9qCLi2IOXX

— elizabeth meryl rosner (@elizameryl) August 11, 2020
The video was tweeted by New York Post reporter Elizabeth Meryl Rosner on Aug. 11. So far, it has received more than 426,000 views and criticism from many, including Assemblymember Yuh-Line Niou.
"This has been kind of a symbol. That is why it is so significant, I think, because we really feel like the city, the state and the federal government has turned their backs on us," Niou said, according to Spectrum News NY1.
Mock acknowledged Niou as the only politician who has ever been present during the community's struggle.
"She's been here with her boots on the ground every day since covid," Mock told Gothamist. "We've been running 16 hours a day, day and night, either providing meals to people in need, or providing PPE to the whole district and whole neighborhood. She could've been at home doing all her Zoom meetings, but she's been out here."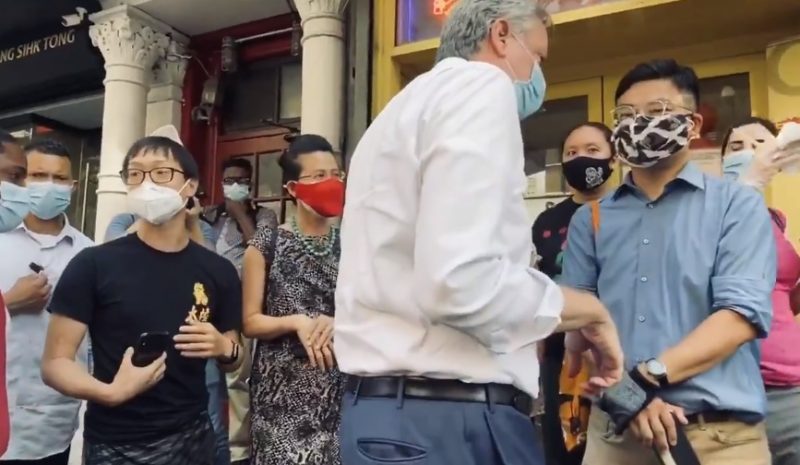 De Blasio's office has since heard about the incident involving Mock. They vowed to help the Chinatown community recover.
"New Yorkers are never afraid to share their thoughts, and we're grateful for his ideas and advocacy for his community. We know COVID-19 has hit small businesses hard, and we're actively exploring more ways to help Chinatown recover," de Blasio's office said, according to Spectrum News NY1.
Feature Image Screenshots via @elizameryl