***EVERYTHING IS SPOILERS — YOU'VE BEEN WARNED***
Trekkies around the country came together last night to watch the premiere of Star Trek: Discovery with bated breath. The highly anticipated series has generated controversial commentary, with fans either praising or slamming the creators for its diverse cast.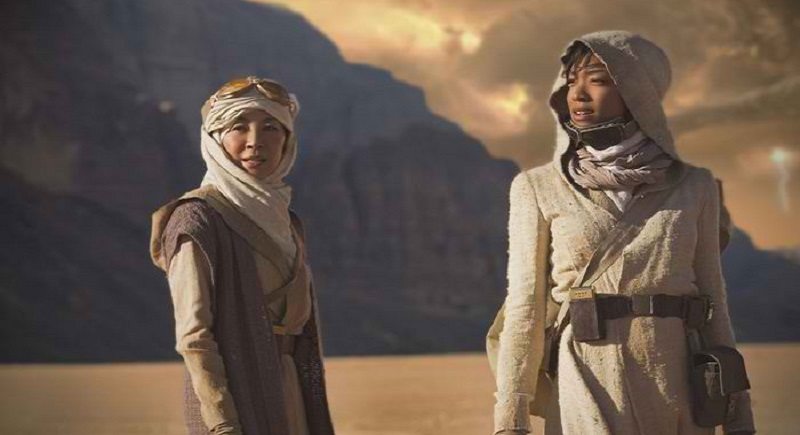 Recently, Michelle Yeoh, who plays Captain Philippa Georgiou of the USS Shenzhou, spoke positively of her role and the impact it will have on viewers.
"It is very empowering and it is very inspirational. In the past I didn't used to think about it, but now I can understand how powerful a motivator it is, especially for (young girls). They'll think, 'If she can do this, I can do this,'" she said in an interview.
It was easy to get hyped up about the casting decision (even Yeoh keeping her Malaysian accent was a newsworthy cause for celebration); so the two-part premiere on Sunday caused grief for many fans who felt the series "did her dirty" by killing off her character in the second episode.
"There's a colossal fight, as T'Kuvma was neither killed nor harmed in the explosion. Georgiou is killed in hand-to-hand combat with T'Kuvma, then Burnham blows a hole through T'Kuvma's chest with her phaser."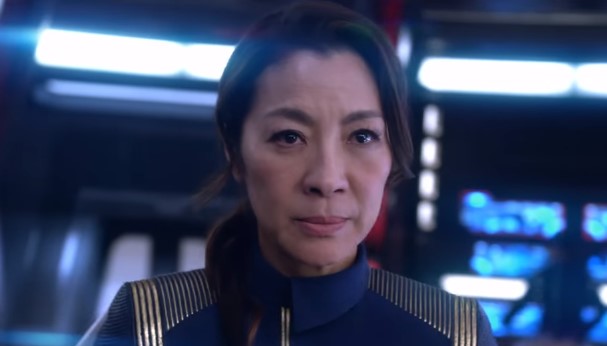 Many netizens felt strongly about Georgiou's death:
In Star Trek universe, everything's possible. Bring back Michelle Yeoh's Captain Georgiou https://t.co/9HzE5wEicl

— Dr Vincent Lien (@fratribus) September 25, 2017
my immediate thoughts on the new star trek: "-_______- Obviously That Was Gonna Happen To Captain Georgiou"

— lucky charmz (@cerealbowl6) September 25, 2017
#StarTrekDiscovery spoilers : the potential for georgiou's death was my red line. she doesn't make it past ep 2, i'm not watching.

— larissa marie (@wraithqueens) September 25, 2017
Where am I supposed to put all these Captain Georgiou feelings though? I can't fit them back in.

— Zhou Yi (@zhouyi) September 25, 2017
SO I READ A SPOILER AND I'M KIND OF HOPING IT'S NOT TRUE BECAUSE GEORGIOU DRINKS PICARD WINE AND I WANT TO LOVE HER TO PIECES

— Carolyn#mutantsunite (@CarolynsGeekOut) September 25, 2017
also georgiou dying really hit me hard

— Dania (@SCHN_TG4I) September 25, 2017
Does Captain Georgiou die? I'm going to fight someone.

— marília (@brieourguest) September 25, 2017
*demands young Captain Georgiou series as compensation*

— WBH️‍ (@wackyhistorian) September 25, 2017
anyway i really liked dsc but WAS THAT PART ABOUT GEORGIOU REALLY NECESSARY
also saru is an instant fav

— Janeway's coffee (@red_lacquer) September 25, 2017
*SCREAMS*

PHILIPPA GEORGIOU IS MY LIFE RN I AM SO MAD

— Dilys (@phantomunmasked) September 25, 2017
spoilers / WHAT THE FUCKT HEY KILLED GEORGIOU

— sarek is a dilf (@SAN_PELLEGR1NO) September 25, 2017
I mean you kind of had to seen it coming when they're guest starring and all the set up…still super sad about it tho.

— Sheren B. (@panda21595) September 25, 2017
Why kill Captain Georgiou in the 2nd episode? Ugh. #StarTrekDiscovery

— Ramen & Inglenook (@kaancornelio) September 25, 2017
the one character that i liked gets killed off captain georgiou she was so brilliant #StarTrekDiscovery

— Laura Maher (@lauramaher25) September 25, 2017
I'm officially done with @startrekcbs. @AkivaGoldsman had a chance to make something meaningful, but instead, indulged in racist tokenism.

— Mike Smith (@bladeoffire1) September 25, 2017
Just when you think racial progress is being made, @AkivaGoldsman and @startrekcbs pull that manipulative B.S. It was a slap in the face.

— Mike Smith (@bladeoffire1) September 25, 2017
It looks like Capt. Georgiou might die in E2. I am not happy at all @startrekcbs may kill off the 1st Asian female captain. https://t.co/FYcgOj1jOv

— Hyo-Jung (@hyojung_12) September 25, 2017


One Twitter user offers hope to those still bitter about their beloved captain's death:
I spoiled myself because I had to, IMDB told me that Georgiou is gonna appear in 15 episodes #StarTrekDiscovery

— Mikaela (@BellaStormborn) September 25, 2017
Although it remains to be seen if Georgiou survived or if those episodes feature flashback scenes.
What do you think? Did Georgiou leave us too soon, or was it poetically epic? Let us know in the comments!