More than eight in 10 Asian Australians have experienced discrimination during the COVID-19 pandemic, according to a new survey.
Between January and October 2020, researchers from the Australian National University (ANU) surveyed 3,043 adult citizens, 334 of which identified being of Asian descent.
They found that 84.5% of Asian Australians suffered at least one instance of discrimination in October, compared to only 38% of the rest of the population.
Most of the incidents (80.6%) occurred in shops or restaurants, followed by workplaces (66.4%), government departments or services (65.6%), banking, finance or legal services (64.7%), and while renting or buying houses (63.9%).
Discrimination dropped 12.3% from April 2019 to April 2020, likely due to imposed lockdowns that limited people's movement.
However, it increased almost equally from the end of the period to October 2020, when restrictions had been eased — at least outside of Melbourne.
Asian Australians reported higher levels of psychological distress ahead of the pandemic, yet they still experienced a much greater increase until April 2020.
The survey also found that about 80% of Asian Australians were anxious and worried about COVID-19, while about 62% of the rest of the population felt the same.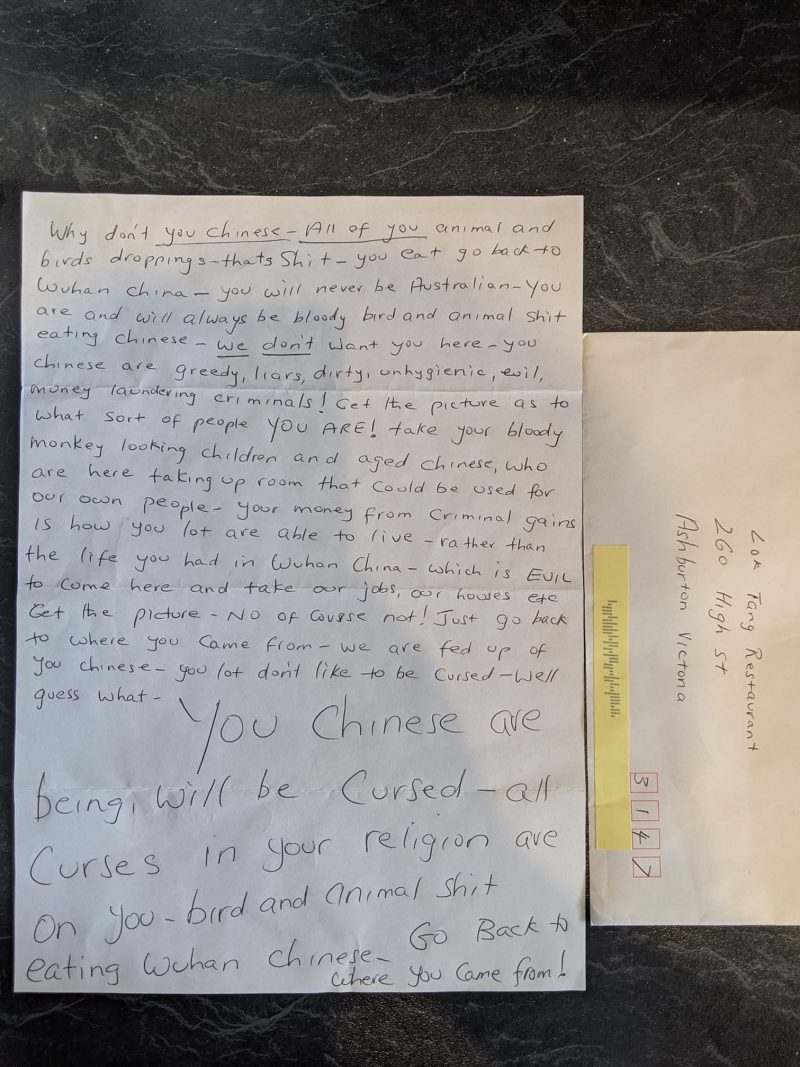 The biggest difference, however, can be seen in labor, as Asian Australians worked twice less (five hours) than the rest of the population (2.4 hours) between February and April 2020.
"Some of this gap has been regained since, but even in October 2020 Asian Australians were working fewer hours than they had in February 2020, whereas the rest of the Australian population were back closer to their pre-COVID levels," co-author Nicholas Biddle said in a statement.
Such a decline can be explained by the fact that Asian Australians are younger and work in urban areas impacted by the pandemic, though labor market discrimination could also be a factor.
Co-author Jieh-Yung Lo, director of the ANU Centre for Asian-Australian Leadership (CAAL), recalled experiencing discrimination early in life.
"Despite being born in Melbourne, discrimination has been a big part of my life due to my ethnicity," Lo told the ABC.
"From outright racism in the school playgrounds, coming face to face with the 'bamboo ceiling' during early parts of my professional career, dealing with unconscious bias in the workplace, and in recent years having my allegiance and loyalty to Australia challenged and questioned due to my contribution to the public debate on Australia's bilateral relationship with China."
The survey comes amid increasing tensions between Australian and Chinese authorities. China has repeatedly accused Australia of racism, warning its citizens in June to avoid travel.
More recently, Australian Senator Eric Abetz came under fire after leading three Chinese Australians to publicly condemn the Chinese Communist Party.
"It creates a sense of division and a sense of doubt in the minds of all Australians that we, as Asian-Australians, are not part of this country, which as a matter of fact, we have been for hundreds of years," Lo told The Canberra Times. "It does not help in a situation like what we are experiencing with the pandemic because already Asian-Australians have been experiencing a resurgence of racism and xenophobia."
The survey also found that 65% of the Australian population had high trust in Asian Australians, compared to 55% who felt the same for Anglo-Australians.
"What is perhaps more interesting though is that Australians are more likely to think that Asian Australians can be trusted, are fair, and are helpful than they are to think the same thing of Anglo-Australians," Biddle said.
Feature Images Screenshots via Amy's appetite (left), NextShark (right)