When Ariana Grande unveiled her unfortunate Japanese tattoo last week, the internet's immediate reaction was mostly of ridicule.
This is because instead of reading "7 Rings" in Kanji — in reference to her song of the same name — her ink translated more closely to shichirin, a type of small Japanese charcoal grill.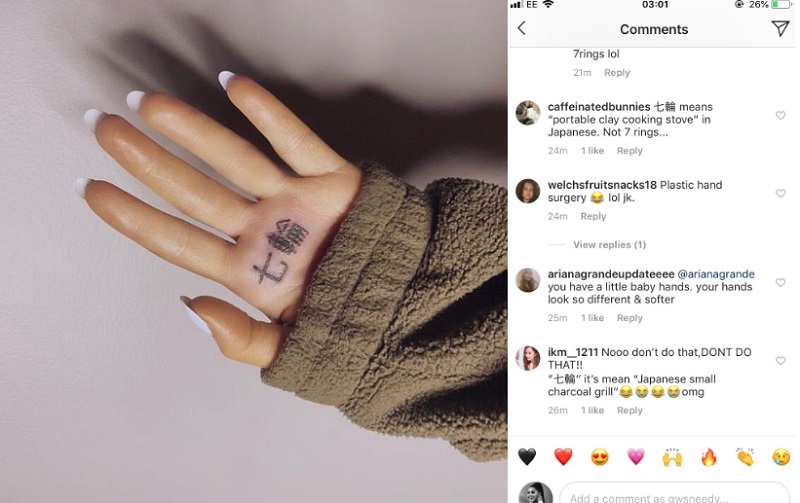 Netizens further poked fun at the singer's mistake when she tried to fix it but ended up with a tattoo that now translates to: "Japanese BBQ finger ♡."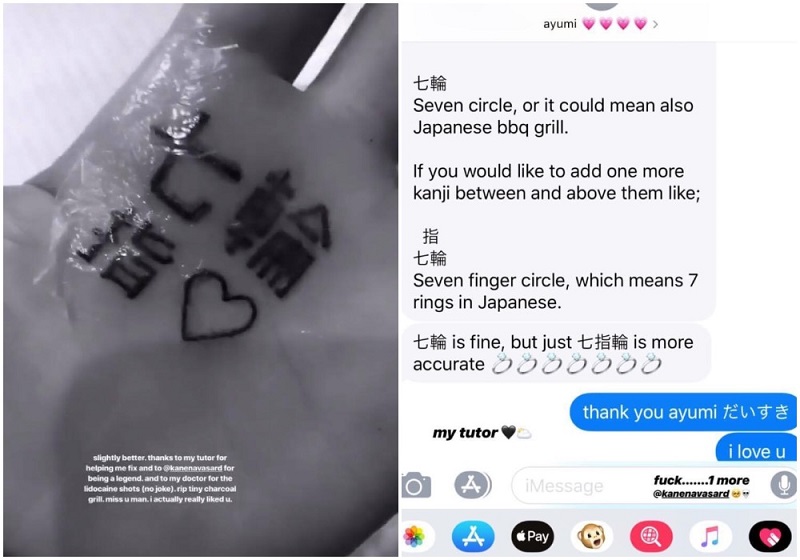 For the most part, Grande has taken the controversy in stride, using humor on social media to deal with her online critics.  
i'll give y'all a million to get off my nuts https://t.co/7yMyP0eHtt

— Ariana Grande (@ArianaGrande) February 2, 2019
However, when some netizens called her out for "cultural appropriation," the singer addressed the situation over the weekend in a series of now-deleted tweets.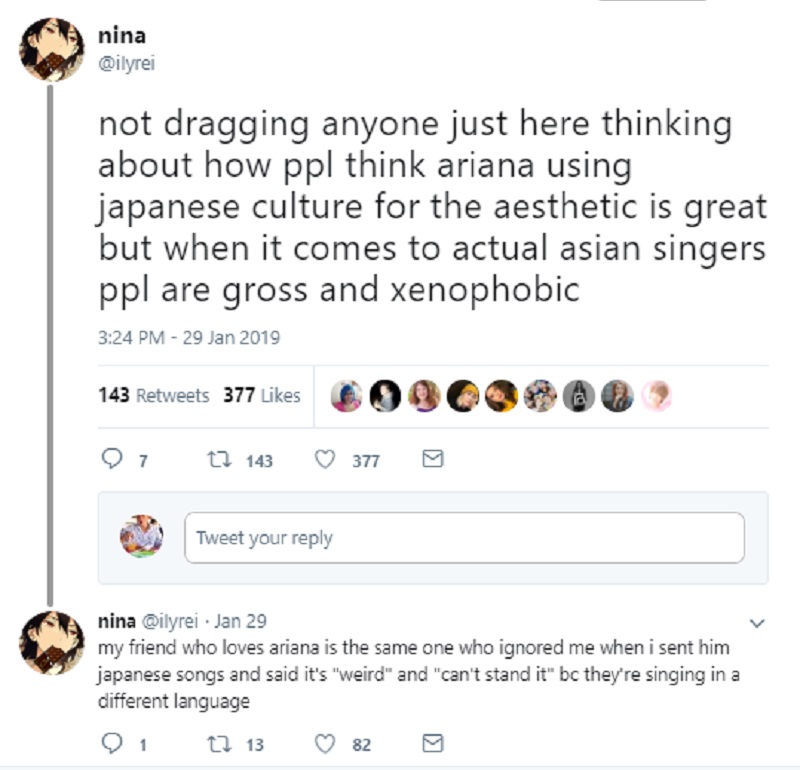 Reacting to comments that berated her for using a language she doesn't understand purely for the "aesthetic" reasons, Grande first apologized and then explained her side.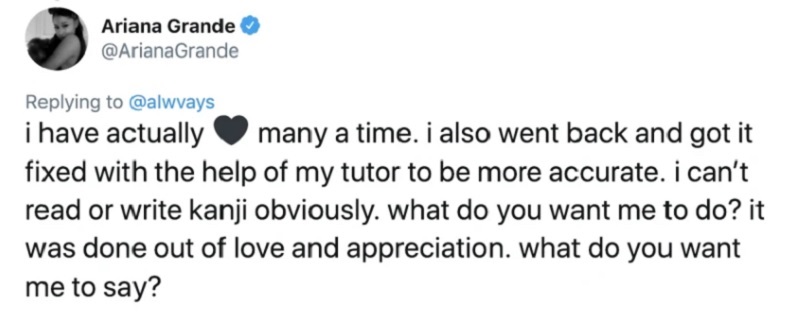 "I can't read or write Kanji obviously," she wrote in a tweet. "What do you want me to do? It was done out of love and appreciation. What do you want me to say?"
She noted that she acknowledged her error and made an effort to correct it.

"There is a difference between appropriation and appreciation," she added.
Grande also revealed that all of the items featuring Japanese Kanji had been taken down from her merchandise store.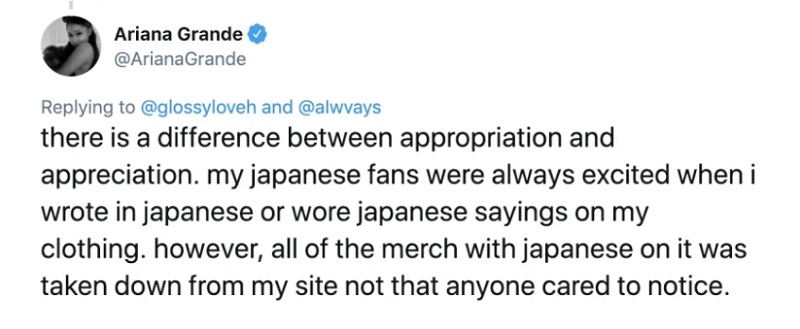 "People on this app really don't know how to be forgiving or gentle when someone has made an innocent mistake," she wrote in another tweet that also mentioned her dealing with "crippling anxiety."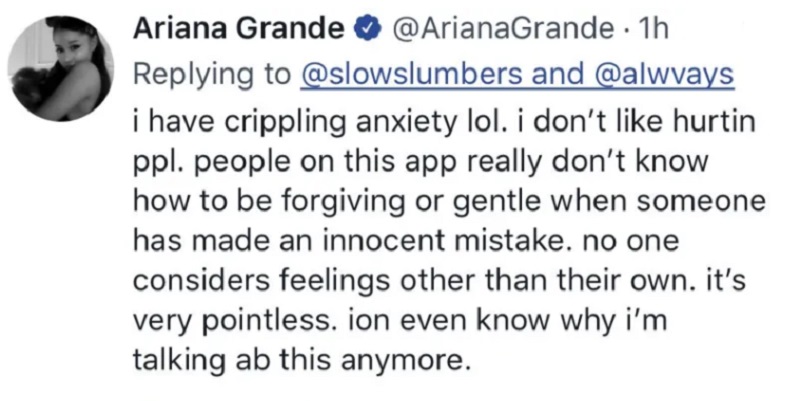 Some netizens then accused the singer of playing the victim for bringing up her anxiety issues. Others criticized her for deleting her apology tweets.
If you wanted any more proof that Ariana Grande is a white woman and culture vulture, look how she's spinning the backlash. After strategically commodifying non-whiteness, she's suddenly feigning innocence, spinning the criticism as unfair, and performing white woman victimhood. pic.twitter.com/nAlwBsVqkr

— Muqing M. Zhang (@muqingmzhang) February 2, 2019
When people claim Ariana Grande's image is "natural" and because "she's Italian," I think back to this video and cringe. She's created an image of fake ethnic ambiguity and obscured her whiteness with a fake accent, fake tan, and by turning non-white cultures into an aesthetic. pic.twitter.com/j9h9PTtleg

— Muqing M. Zhang (@muqingmzhang) February 2, 2019
Ariana Grande appropriates non-white cultures to be "sassy" and "exotic." Yet once she's called out she performs white woman victimhood and invokes her "anxiety" to manipulate people into thinking shes an ~innocent little girl~ being bullied, while inciting her stans to attack. pic.twitter.com/y4i3z4zXHK

— Muqing M. Zhang (@muqingmzhang) February 3, 2019
ariana literally could have just said okay and left. but no once again the white woman is the victim whilst the POC are suppressing her from doing something she loves. this is a tired narrative. you. are. not. the. victim. in. this. situation.

— ~ (@mcutom1) February 2, 2019
There are also those who defended Grande and praised her for trying to fix the tattoo, while others simply wanted to give the singer a break.
also, y'all needa chill. ariana did NOTHING wrong. the girl made a mistake like we all do! and the thing that makes me so sad is that she has anxiety and i have it too so i know that it sucks ass. she's probably feeling so overwhelmed right now and i just want her to be happy.

— (@NASASMlLE) February 2, 2019
I've never known anyone as genuine as Ariana who only ever has good intentions and does everything she possibly can to make others happy before herself to get this much hate over the most pointless things that are innocent mistakes and has apologised for multiple times?

— emily (@gracefullyagb) February 2, 2019
ya'll are CONSTANTLY preaching mental health but when it comes to ariana ya'll don't care at all. it's sad. leave her alone. after these past couple years do u not think she deserves a damn break? bc she really does. more than anything. give her love. period.

— ‏ًً (@intograys) February 2, 2019
Featured Image via Instagram / arianagrande