A fundraising director for Andrew Yang criticized MSNBC for "silencing" the candidate in the latest Democratic presidential primary debate, describing the move as a case of "systemic racism."
The debate, which took place in Atlanta on Wednesday, saw the 44-year-old tech entrepreneur wait for roughly 32 minutes before having the chance to speak — and for the shortest amount of time among all 10 candidates present.
Yang spoke for only 6 minutes and 43 seconds, nearly half the time of Sen. Elizabeth Warren who clocked 13 minutes and 23 seconds.
Moderators also acknowledged Warren when she raised her hand to speak but ignored Yang when he tried to do the same, according to some Twitter users.
So much for the promise of equal time for all candidates, @AndrewYang got half the time as the usual media favorites. Typical. -V #LetYangSpeak #LetTulsiSpeak pic.twitter.com/gxemIlfdQG

— Tulsi Gabbard (@TulsiGabbard) November 21, 2019
Following the event, actor and producer Brian Yang, who currently serves as a regional fundraising director for Andrew Yang, joined in criticizing MSNBC for not giving the presidential candidate more time to speak.
"[I] hate to say [this], but after consulting with someone who works at MSNBC, someone who worked [in] both New York and Los Angeles city governments, and someone who has studied this academically, MSNBC's silencing of Andrew Yang feels like systemic racism," the "Hawaii Five-0" star wrote.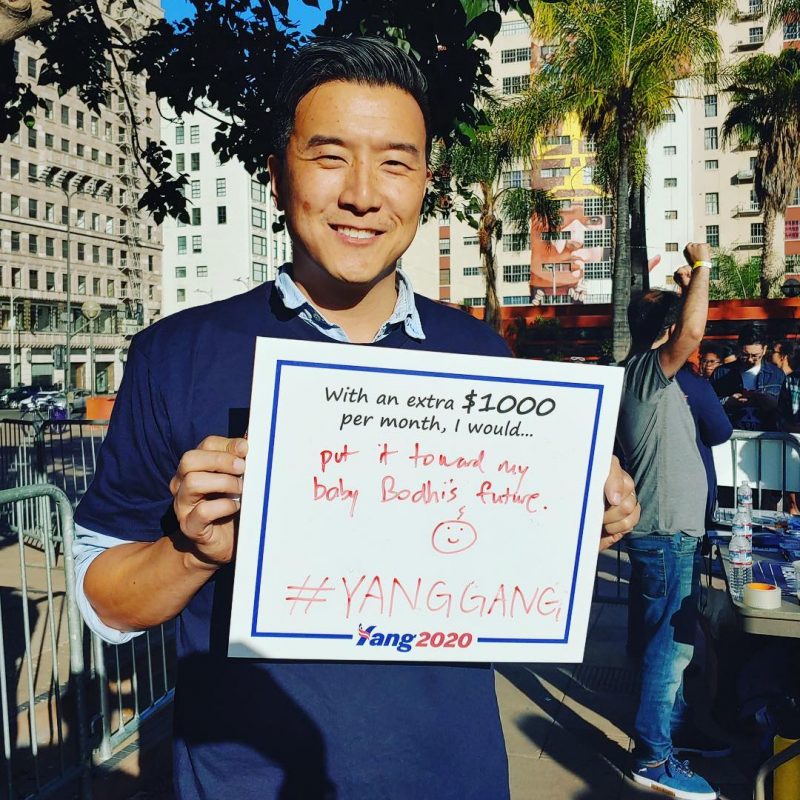 Systemic racism, also known as institutional racism, is a form of racism expressed in practices within and across social and political institutions that, whether intentional or not, produce outcomes in favor or disfavor of a particular racial group.
"This would never happen to an African American or Latinx candidate," the fundraising director added.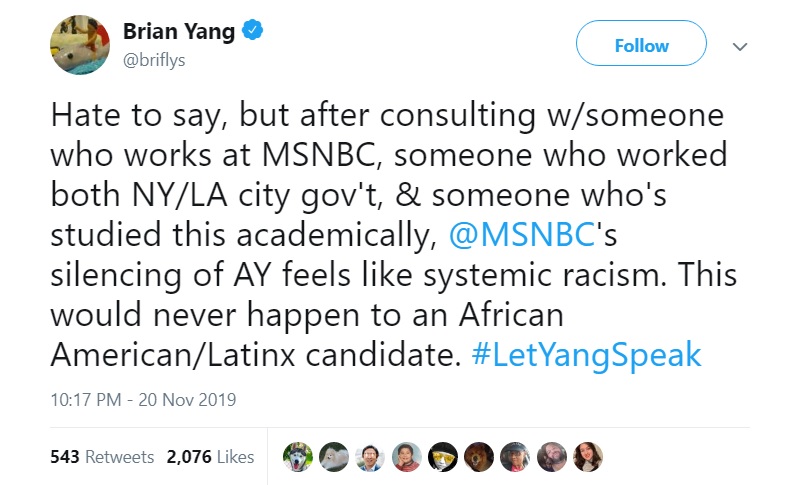 Brian Yang's statement drew support from Twitter users — many from the "Yang Gang" — with one confirming that MSNBC sees Andrew Yang's campaign as "a lost cause."
"I have a relative who works there and I can absolutely and with certainly [sic] confirm this. This was told to me after I voiced my support and being told 'it's a lost cause,'" Twitter user @ChristaRaej wrote.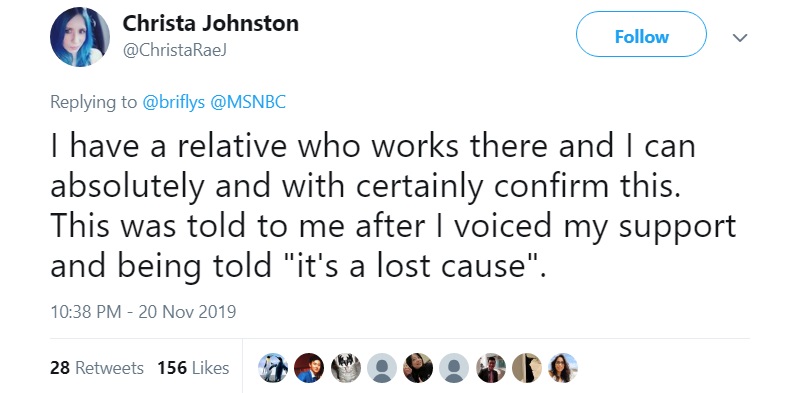 One Twitter user also highlighted MSNBC's "true colors," showing the Democratic presidential candidates speaking against a background of blue, red or a combination of both, which another alleged as a "deliberate manipulation of the viewer's subconscious."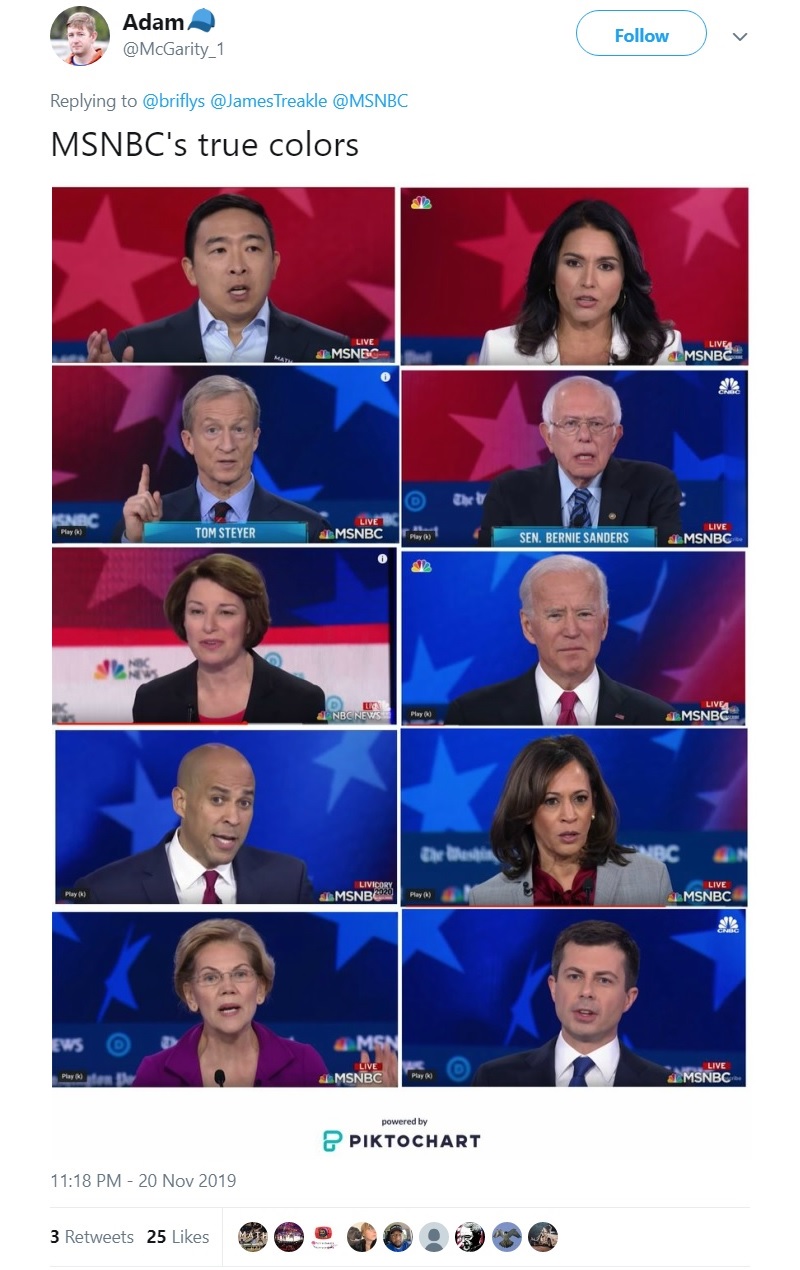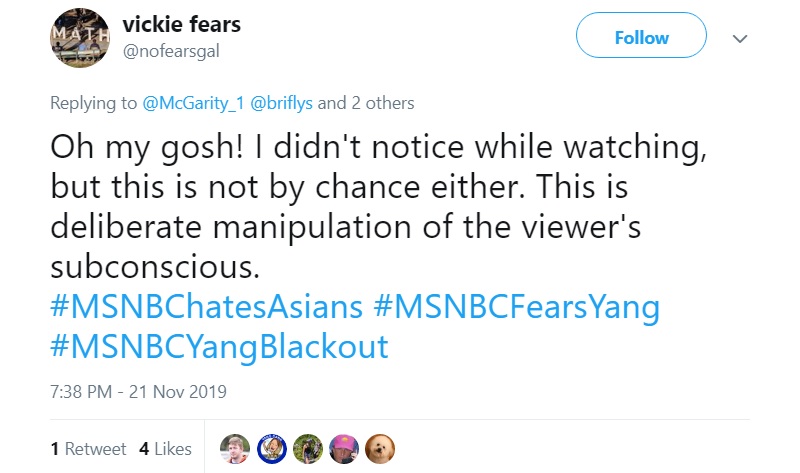 Andrew Yang has met controversial hurdles in his campaign, such as having his microphone turned off during the June 27 debate and being repeatedly snubbed by the media.
In a follow-up tweet, Brian Yang announced that despite the ongoing "#YangMediaBlackout," the Democratic presidential candidate manages to collect more followers, donations and support — including from CNN, which described him as "by far, the most relatable candidate on the stage" and one that has "drastically over-performed expectations."
"The good news is that even with six minutes of time to speak last night, Andrew Yang somehow gets more followers, donations, and support like he does after each debate," Brian Yang wrote. "There may be a #YangMediaBlackout happening, but there's a #RevolutionOfReason that can't be stopped either!"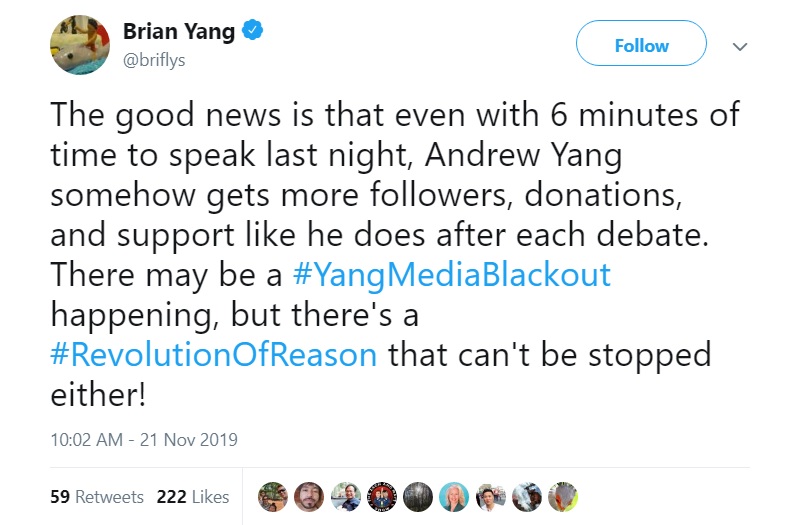 Feature Image (Left) via NBC New York, (right) via @briflys