K-pop boy group AB6IX concluded their latest tour "AB_New Area" at the beginning of July.
In June, the four members kicked off their tour in Seoul before they headed off to Tokyo and six cities in the U.S.
AB6IX's Seattle show lasted around 80 minutes, with a 10-track setlist that included songs such as "Hollywood," "Breathe" and "Encore."
AB6IX debuted in May 2019 under the label Brand New Music with members Woong, Dong-hyun, Woo-jin, Dae-hwi and Young-min, with Young-min leaving the group in 2020.
I grew up in Seattle, but it took attending a recent AB6IX concert to learn that Daejeon, South Korea, is its sister city. There is a Daejeon Park in Seattle's Beacon Hill complete with a Korean-style pagoda, lawn and a commemoration plaque installed in 1998 that says the pavilion was a gift from the city of Daejeon. The way these little-known facts have come to my attention mirrors my experience with AB6IX, a K-pop boy group I wasn't familiar with despite being a diehard K-pop fan for almost four years now. 
What is familiar, however, is how passionate K-pop fandoms are, and theirs is no different. AB6IX started their latest tour "AB_New Area" in Seoul in June before flying to Tokyo and six cities in the U.S.: New York, Atlanta, Chicago, Dallas, Los Angeles and Seattle. The small, intimate venue of The Showbox in the heart of downtown Seattle flooded with cheers as the group's four members dressed in summer-appropriate, crisp white shirts sauntered to the stage. Their fans, known as ABNEW, could put even the most adoring Seahawks supporters in Lumen Field to shame.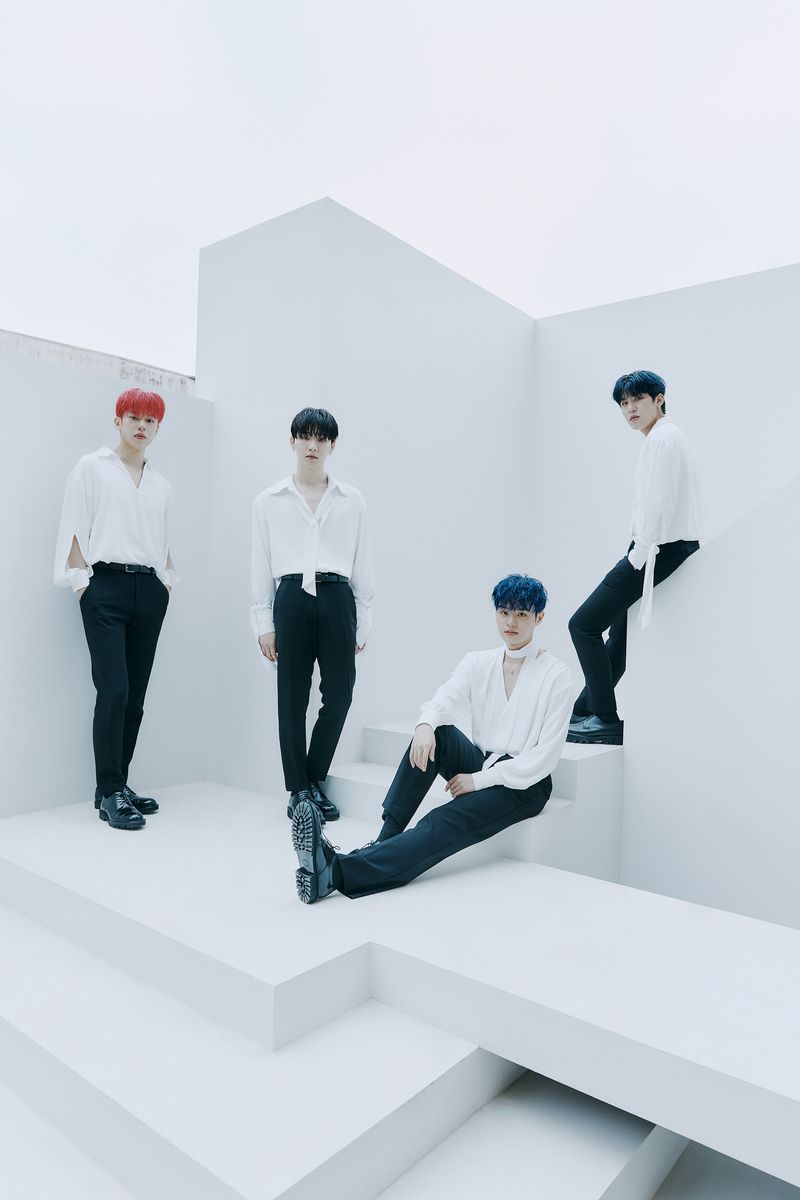 The group opened with the English version of their 2019 pre-debut single "Hollywood," a fitting introduction to who they are for the uninitiated like myself. Electrifying and pulverizing EDM trap beats ground you in their world while their choreography, complete with finger pointing, pulls you in like an invisible string. As Woong executes a backflip and three members drop to the floor in a lightning-quick pushup leg kick maneuver, the song's lyrical declaration of "Who am I? Imma let you know" is indeed a rhetorical question that carries a self-assured answer.     
AB6IX debuted in May 2019 under the label Brand New Music with members Woong, Dong-hyun, Woo-jin, Dae-hwi and Young-min. Prior to AB6IX, Youg-min and Dong-hyun were members of a duo called MXM, while Woo-jin and Dae-hwi were part of the group Wanna One, which was formed from Season 2 of the idol competition reality show "Produce 101." In June 2020, Young-min, who was the leader of AB6IX at the time, left the group.
The name of the group, which currently has four members, is short for "Absolute Six" and is also reportedly an abbreviation of "Above BrandNew Six." The number 6 signifies the group's initial five members plus their fandom ABNEW, who are described as "a sixth member that will become one with AB6IX and walk a new path with them together." 
It is easy to be taken on that walk from the get-go. As a line amassed out the venue's entrance and onto the next block in anticipation for the show to start, venue staffers scurried down the queue to hand out colorful sticky notes so fans could write questions for the group. These notes were then posted onto a board that was brought up on stage.
AB6IX read these notes and called on those who had signed their names to join them on stage. These fans were able to ask more questions and even take a Polaroid selfie with the group. One fan was visibly shaking from excitement and another engaged in a full-blown conversation with them in Korean that resulted in the boys taking a group selfie using her phone. 
More fanservice came during a second-round of inviting ABNEW on stage to receive autographed shirts and discuss more questions and Twitter posts. Two friends asked the group about how they cut their sandwiches and if there were more doors or wheels in the world, a question that went viral on social media. Watching the members argue and debate was hysterical, as was their hand gestures meant to create an image of a sandwich coupled with cutting motions.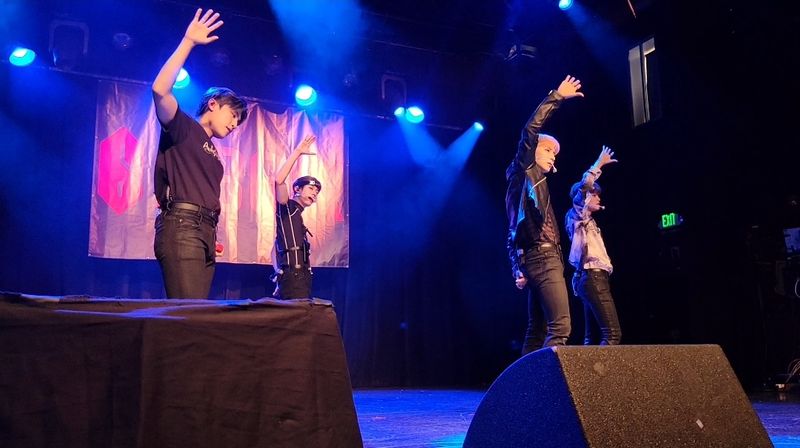 Most concerts, especially K-pop ones, are filled with the generic platitudes of how happy the group members are to be there and meet their fans. But with AB6IX genuinely wanting to hear from their fans and to have them join the group onstage – that is the beauty of K-pop at its best.
Not every concertgoer was a VIP who would be able to meet the group after the show, but each member made it so that you could still interact with them from a distance, among the crowd of strangers, turned-friends. Maybe this was because it was the group's first U.S. tour — with their 2020 plans postponed because of COVID-19 — or the small venue, but AB6IX made the most of their show and demonstrated a stark difference between huge stadium shows – where artists are unable to connect with everyone – and what essentially felt like a private concert. Their music and performances, like one of their exuberant, catchy tracks from the show, are just the "Cherry" on top.     
Each member had standout moments. Woo-jin's proficiency as the main rapper was evident as he torched the breezy bop "Cherry," delivering his fiery bars with flair, spice and a knowing smirk. Dae-hwi, a wunderkind who composes and writes many of the group's songs, including "Encore," "Vivid," "Cherry," "Hollywood" and "Breathe," flexed his soft gossamer tones in the melodically pretty serenade "Sucker for your love." Being fluent in English, he also did quite a bit of heavy lifting acting as a proxy translator for his group and the audience. His heavy breathing and popping diction in the aptly named "Breathe" prompted his fellow group mates to tease him, saying that he was too loud and that they couldn't hear themselves well. Regardless, "Breathe" and its catchy hook are a satisfying classic in their repertoire.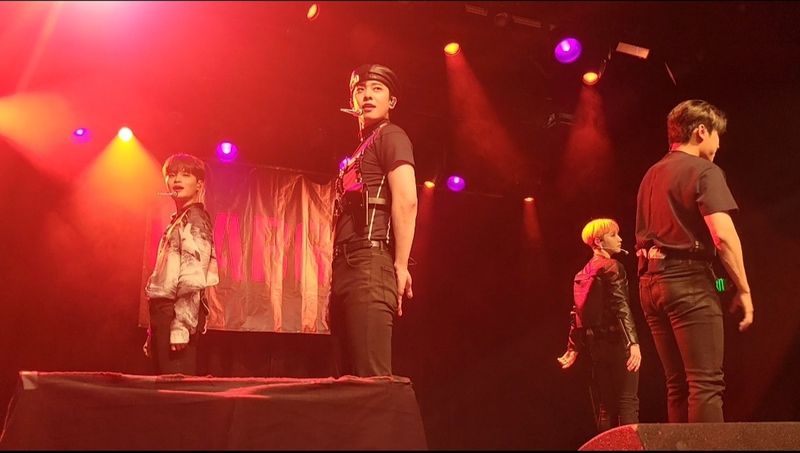 The group's performance of "Close" was infectious, with its industrial electronic sounds framed around the subdued, smoky slick vocals of Woong. "Shining Stars" was where Dong-hyun shined the brightest, emoting a tender timbre that reverberated in the room before the track switched to its nostalgia-inducing house drop. Dong-hyun made a genuine effort to waltz across the stage, interacting with every fan he possibly could in an ocean of lights formed by phone flashlights.
The concert itself was relatively short – 80 minutes with performances for 10 songs. It could have been 15 to 20 minutes longer to include more of the group's discography, but for their first series of shows in the U.S., they made an indelible impact. 
Going into this concert without knowing anything about the group was frightening for me. I questioned whether it would be possible to even enjoy the experience without knowing the songs or members. I also wondered if I would receive judgment from those in attendance. A person's first foray into K-pop can be an intimidating venture, and there is often a whole courseload's worth of information for any one group, with hours of content, merch, music and fandom activities to consume.
One of Dae-hwi's produced songs, "Encore," encapsulates what AB6IX's virtues are. The song lists ABNEW in the credits because it incorporates audio taken from their harmonizing during a live performance. This participatory inclusion is beyond merely composing a song for the fans – it is also a commemoration between artist and audience.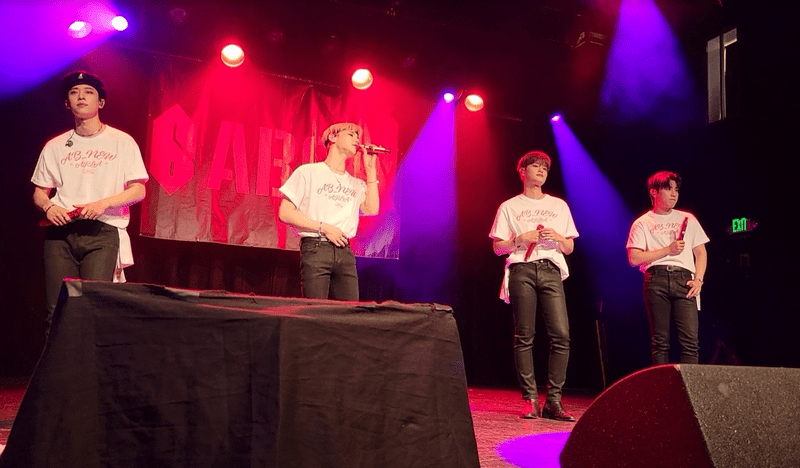 Although it was not my first time attending a K-pop concert, it was my first time taking a chance without having done any prep work, so to speak. My first AB6IX show taught me that it is possible to have fun without having forthcoming expectations of any song, performance or moment. I was familiar with K-pop but never experienced the bond I now feel because of AB6IX's sincere showcase. 
I am a K-pop fan anew – and now, I am an ABNEW too.
Featured Image via BrandNew Music