Tammy Duckworth is the epitome of a badass. There is just so much to love about this Asian-American Purple Heart veteran who now serves as the United States Senator for Illinois. She fights hard for Americans and knows what that means due to her long, rich history serving this country. And have you seen her Twitter? Talk about fire!
Just broke my leg rowing — I blame my hardcore pace. Luckily, it no longer hurts to break a leg! pic.twitter.com/slTWGx6sMD

— Tammy Duckworth (@SenDuckworth) September 7, 2017

So here's seven reasons why we totally love Tammy Duckworth (in no particular order):
She's an actual hero.
A decorated combat veteran of the Iraq War, Duckworth chose to serve as a U.S. Army helicopter pilot in 2004 because it was one of the few combat jobs available to women.  Her family has a storied history of serving in the military; she followed in the footsteps of her father, who served in World War II, and ancestors who served in the Revolutionary War. 
My mom just cleaned her storage locker & found my dad's old uniform. He was an all–@USArmy marksman & I grew up on rifle ranges #tbt pic.twitter.com/vshpHUcai4

— Tammy Duckworth (@SenDuckworth) August 3, 2017
She has an unwavering spirit.
On November 12, 2004, a rocket-propelled grenade fired by Iraqi insurgents hit the UH-60 Black Hawk helicopter Duckworth was co-piloting. The explosion "almost completely destroyed her right arm, breaking it in three places and tearing tissue from the back side of it". Fortunately, the doctors were able to save her arm by resetting the bones and stitching the cuts.
Unfortunately, she lost her right leg near the hip and her left leg below the knee from her sustained injuries. Still, this never broke her spirit; when asked how she is able to 
laugh about her disability
, she tells
GQ
:
"I'm proud that I earned this. Because I earned it in defense of my nation." 
After her recovery, she continued to serve as a Lieutenant Colonel in the Illinois Army National Guard until her retirement in 2014.
She's a lady of firsts.
Aside from being the first female double amputee from the war, Duckworth also became the first disabled woman to be elected to the U.S. House of Representatives when she defeated Republican Joe Walsh in 2012. Her victory made her the first woman veteran to be elected to a major political office in the United States.
Great visiting @ThisAbleVeteran last wk to learn abt their program—I've been a strong advocate of increasing access to service dogs for Vets pic.twitter.com/NAAkxhVchX

— Tammy Duckworth (@SenDuckworth) August 28, 2017
She is also the first member of Congress who was born in Thailand.
She is a champion for veterans.
WWII Veterans saved the world and saved democracy. Humbled by WWII Veteran Henry Dennis Noetzel's service—he is a true American hero pic.twitter.com/BMRs3vQpwr

— Tammy Duckworth (@SenDuckworth) July 20, 2017
After losing her first congressional campaign in 2006, she worked at the Illinois Department of Veterans Affairs, where she campaigned hard on a number of key issues for vets, including ways to improve veterans' housing and health care. Through her initiatives and efforts, Illinois began offering tax credits to businesses that hired combat veterans.
She also initiated a program that helps veterans with post-traumatic stress disorder (PTSD), brain injuries, and other related conditions.
She strives to ensure the needs of the disabled are being met.
Duckworth became disabled due to her time spent serving in the war; as such, this has greatly impacted her focus when it comes to her constituents.
Yesterday, I rode @CTA Blue Line w/ @AccessLiving to underscore the importance of ensuring our public transit systems are 100% ADA-compliant pic.twitter.com/V2RGGVUMTD

— Tammy Duckworth (@SenDuckworth) August 16, 2017
Where many able-bodied people wouldn't think about the needs of those who use wheelchairs, are blind, or have other challenges, Duckworth takes it upon herself to ensure that the disabled community's needs are being met and that they have access to the same basic things that able-bodied people take for granted.
She never backs down.
Her political opponents have often resorted to unscrupulous methods to bring her down, such as belittling her service accomplishments, mocking her heritage, and even organizing a fake protest against her, yet she remains staunchly focused and has always emerged victorious amid such politicking.
She is also not afraid to speak up her mind on issues that matter to her, no matter she is up against. When President Donald Trump first announced the ban on transgender men and women serving in the U.S. military last month, Duckworth quickly became one of its most outspoken opponents.
When I was bleeding to death in my Black Hawk, I didn't care if the troops saving me were gay, straight, transgender, black, white or brown pic.twitter.com/FTzjHpZuuH

— Tammy Duckworth (@SenDuckworth) August 24, 2017
She fights the good fight.
Aside from protecting veterans, caring for the disabled, prioritizing education, and advocating equality, Duckworth is also known for standing up for immigrants. She supports a comprehensive immigration reform that will allow a pathway to citizenship for those undocumented immigrants.
"America is at its best when we welcome immigrants who work hard every day to build a better life for themselves and their families, but President Trump's policies and proposals would take us down a much darker path," said Duckworth.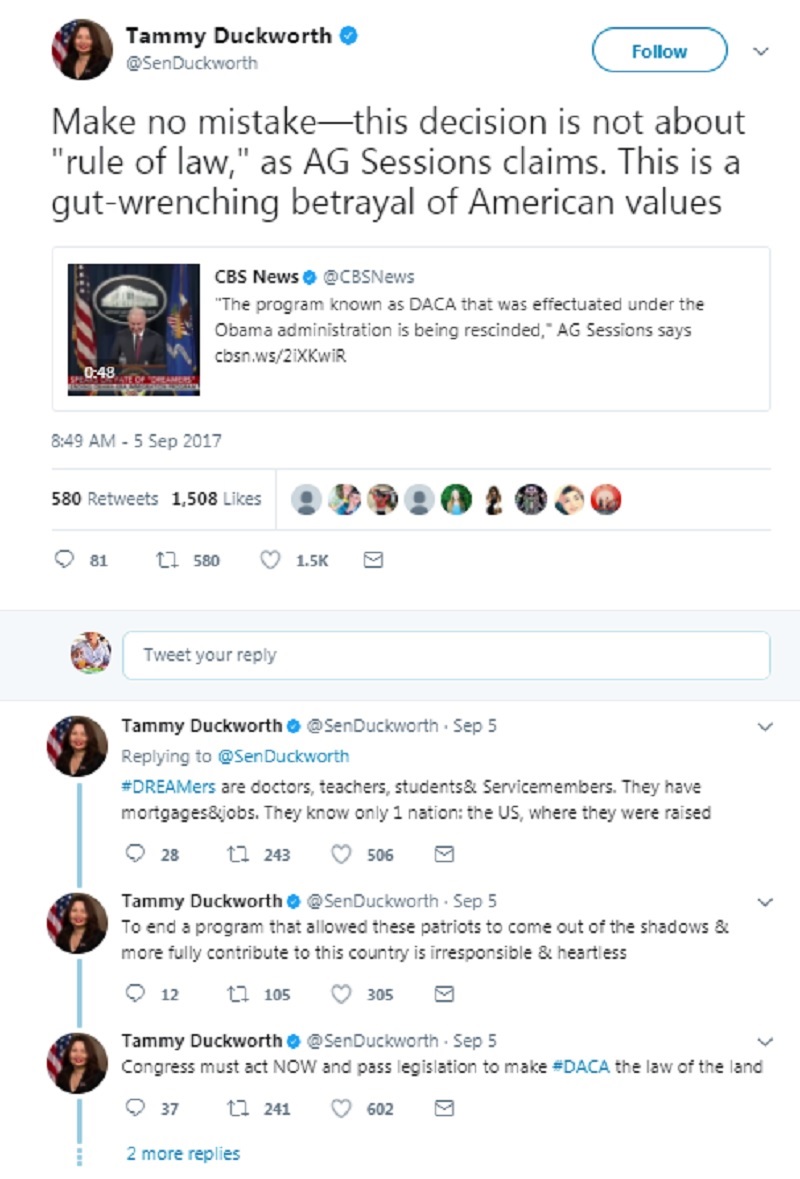 Feature image via US Department of Veterans Affairs